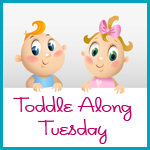 I am joining up with Melissa at Growing Up Geeky once again for Toddle Along Tuesday. Today's topic is the unexpected. Here are my "nevers" that have certainly changed now that we are a family of 3!
I never...
- thought that I would be as green about parenting as I am. I never thought that BF, making baby food, or not eating out with P would be unheard of but I didn't think that I would have it together enough to do those things.
- thought that I would go on a crazy diet while figuring it all out. The minute that P was diagnosed with MSPI I did just that!
- thought that I would be as unscheduled as I am. I am seriously type A but P rules the world with everything!
- thought that the only bodily fluid that would make me gag is drool. Ugh, I am gagging just thinking about it!
- thought that I could love 2 people more than I loved J before P arrived!