My lovely friend, Mre Monica at Running Through Parenthood in Heels has started a really cool new thread on Thursdays called Nifty and Thirfty Thursday. So I am linking up!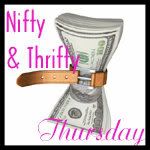 A la Pinterest, I found this cool idea for creating custom sized art that will definitely match whatever you need. I am totally doing this next week!
This is a cheap easy eay to get art you will love and love to change. I get bored with our comforter in our bedroom very easily but redoing all the art every time in typically not in the budget. This idea of using fabric on insulation will allow me to easily do this! I am excited!
here is the page where I found the specific directions!
http://www.imperfecthomemaking.com/2012/03/simple-thrifty-diy-art.html?utm_source=feedburner&utm_medium=feed&utm_campaign=Feed%3A+ImperfectHomemaking+%28The+Complete+Guide+to+Imperfect+Homemaking%29&m=1
Thanks Mrs Monica! I will be looking forward to this every week!