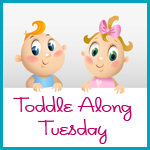 Christmas is less than 2 months away! I have started shopping - have you? This week on Toddle Along Tuesday, Melissa is talking kid wish lists. Here is what we are hoping for P.
1. Play Kitchen - we really bounced around in this one and I'm not sure we're settled but now this KidKraft one is top on the list.
2. Plenty of kitchen gear to go with it.
3. Clothes, of course. I <3 div="div" nbsp="nbsp" these.="these.">3>
4. Books. These look cute.
5. Purse. There are a few tat look cute but I really like Melissa and Doug products!
6. We would love to get P some sort of ride on toy. This is a dream but any ride on item will probably wait until her birthday in the spring.