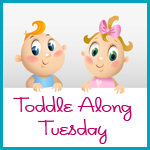 Toddle Along Tuesday is back! This week's topic is all about weddings! I am excited about sharing with everyone, but when I started to get this post together, I realized that I don't have very many photos from our wedding digitally. Needless to say, sorry for the qualityof the pictures because I went old school and took pictures of pictures!
Our wedding was on a beautiful Saturday in July - 7/14/01 to be exact! That was a long time ago! I loved everything about the day. We had a relaxing morning getting ready. We did have a small delay before the ceremony due to traffic that held up family getting there, but no worries for us. Jeff said he napped and the girls and I made up cheers!
Now for the photos!
Our announcement picture! I LOVED my flowers - simple but perfect!
One of the best moments of the day - being with my dad and seeing J for the first time!
We look so young in this shot to me!
All my girls! I wish the blue of their dresses came across better in pictures!
Our guys!
It was a great day. No regrets on any choices except not having a video. My memories are fantastic though! How about your day?