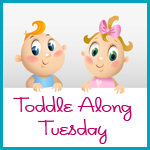 Toddle Along Tuesday has us talking about quirky habits of our LOs. P has plenty but my 2 favorites right now are her love of boxes and her "walks."
I have posted about her box obsession before. Here is a little taste:
Or you can read more here:
http://myorganizedchaosverstreate.blogspot.com/2012/09/wordless-wednesday-box-love.html
P was a "late" walker at almost 16 months but she has not let this stop her.
Now the minute we pull in the driveway, her first reaction is to say "WALK!" She could go outside f
orever!
Here are my favorite shots! (Some are inside, I know!)