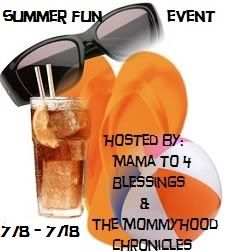 Thank you for stopping by The Summer Fun Giveaway & Event, hosted by Mama to 4 Blessings at
http://mamato3blessings.blogspot.com/
and the
Mommyhood
Chronicles at
http://www.the-mommyhood-chronicles.com/
! This event will take place from July 8
th
at 12:01am EST to July 18
th
at 11:59pm EST. For this event we will be celebrating summer! Which means each participating
blogger
will be offer summer related giveaways $15.00 and up! After entering my
fantastic and FIRST EVER
giveaway be sure to visit each blog from the
linky
below the
Rafflecopter
and enter for your chance to win
some really amazing prizes!
I am totally in love with E&O Clothing company! I have talked about her many times on my blog here is my first review of her work:
http://myorganizedchaosverstreate.blogspot.com/2011/12/review-hand-embroider-onses-from.html
. P wore an adorable CUSTOM onesies at her first birthday, you can see it in my post about her party:
http://myorganizedchaosverstreate.blogspot.com/2012/03/party-time.html
. We also have a custom made breast cancer onesies that will be coming up in pictures in a post VERY soon.
E&O Clothing started as a passion for a little girl. It has turned into a great business for a new mom. She has plenty of great ready to ship items in her store in lots of sizes. Talia will also either make something she already designed in the size you need or, better yet, she will work with you to design something one of a kind! Her work is impecable - and lasts! I still ahve the holiday onesies that P wore at least 5 times. My hope is to include it in a quilt of my favorite clothes of hers.
Here are some of my favorite items from her shop:
Another one of my favorties from her shop is that she will do monthly onesies! I wish this was out before P was born!
Here is a little more about Talia in her own words:
I am the mother to a beautiful daughter named Eleanore. She was the inspiration for my clothing line. I now run Eleanore's Treasures full time and have a blast at work everyday dreaming and creating. I would love to create something for you too!
Now Shop!
Everything there is really cute. Check out everything at
www.etsy.com/shop/eleanorestreasures?ref=si_shop
. Talia is offering 20% off to all my readers! Use coupon code JULYBLOG20 for the whole month of July!
What can you win?
Now here is the best part of the post! Talia has agreed to give my readers a chance to win a $25 credit to her store.
How to Enter:
This is a Rafflecopter giveaway. Click "Read More" below and then follow the instructions on the widget. Make sure to click "Enter!" after you complete each entry. All currents count! The giveaway is open to US Residents only and ends at 12:01am on Thursday, July 19th.
The first entry is mandatory - Visit E&O's shop and leave me a comment telling me which item at her shop is your favorite! Once you complete this entry, the widget will give you the option of completing the rest. Complete more steps for more chances to win!
a Rafflecopter giveaway