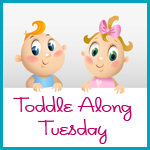 We are boring when it comes to diapering. We are a disposable diapering family. As green as I try to be about many areas of my life this was one I had to let go. So here is our routine...
We use Pampers. There was a big stink right around when P was born about their Baby Dry diapers causing problems but we have never had a problem and love them! Cruisers and Swaddlers!
In P's room we keep diapers in JJ Cole bins in her changing table. I love the closed storagethat we have in her changing table but the hutch gets in the way ocassionally.
After a lot of searching, I found the perfect caddy for our living room. It is smaller, portable, and holds what we need. It blends with our stuff so it doesn't scream baby but functions really well. It is also JJ Cole. I seem to like their organizers, huh!
Although we are vanilla with our diapering, there are many stories to read through Toddle Along Tuesday at Growing Up Geeky. Check it out!