I am linking up with Mama G at Growing Up Geeky for Toddle Along Tuesday. This week's topic is recipes for our little ones.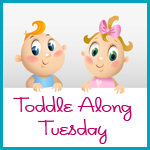 P loves her purees! I have been a little crazy about making all of her food but I have loved it. I even bought a yogurt maker! The two best resources that I have are http://wholesomebabyfood.momtastic.com/ and my cook book.
This book does keep things basic but for a LO and new mom struggling with some intolerances, it is heaven. We have made almost everything in it! P loves her fruits and veggies! I will be browsing the other responses on how I can get her to eat meat and/or cheese!