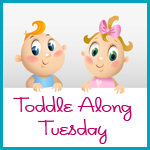 Yeah!!! Toddle Along Tuesday is back! I am so excited! This is a great place for me to take inspiration for writing my blog from!
This week Melissa's has us writing about our Mommy Pet Peeves. I have a great husband. I know that a lot of people say that, but I honestly can say that he is great. We have a very balanced relationship - in our friendship, love life, parenting, and household. Ladies, he does my laundry. Every week.
With that said he does do one little thing that drives me nuts! J has a lot going on in the morning. He gets himself ready, P up and ready, and out the door. Part of him getting ready is packing his lunch. He eats the same thing every day - PB&J and a fruit cup. Along with everything else he does in the morning, he leaves out the bread and PB. Yes, this is silly but it bugs me.
To be fair, I do little things that drives him nuts too. We try but there are these little habits that we bug each other with! Check out more pet peeves at Growing Up Geeky!