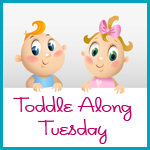 I linking up with Melissa at Growing up Geeky for another week of Toddle Along Tuesday. This week s all about baby must haves. Here are my go tos for a little little one!
1. Video monitor
I cannot imagine not having this. We have a noisy sleeper who randomly cries as she rolls over so I would hate to have to run into her room at every sound. This also allowed us to get a little extra sleep since we could glance t the picture to know if things were okay without acing to get out of bed.
2. Boppy pillow
I know that some moms swear by the my breast friend. This version is more portable and cheaper. I began using it at the hospital while i was learning to nurse her over a c-section scar. We still use it at bed time to cuddle and read. Love it!
3. Breast pump
This is more for working breast feeding moms but I loved mine. While I would have loved to exclusively nurse her, figuring out her latch literally destroyed me so it was great to take a weekend off but still keep my supply and give her only breast milk. It was also convent for work. Bonus:Medela has THE BEST customer service on earth! They saved me twice when I thought that my pump was ruined by teaching me some easy maintenance and sending me new, free parts! Love them!
4. Swaddle Me Blanket
This blanket answered our prayers! We had a baby who needed to be swaddled to sleep well but always wanted to bust out. Enter Swaddle Me. Love it!
5. Bouncer
This was a life saver for me. P was not a swing child (luckily friends told me to beware), and this was the only place that she would nap. She did sleep in her own crib at night but with limited stair usage for me, I needed a place to put here in our living room. The pack n play only worked every once in a while. The bouncer ALWAYS worked. This is my go to purchase for baby showers!