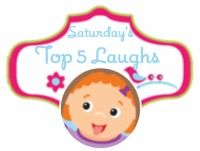 I am joining in the Mommy Chronicle blog hop again. I love seeing new blogs as I hope I am getting some new readers. :)
Here are my funnies for the week:
1. Today J (DH) was juggling some of P's blocks and she was laughing a huge belly laugh. It made us both join in the laughter.
2. I proctored a test today. The students were assigned rooms by last name. I had a string of names from R to V. A girl, whose last name began with W was very confused, then mad, and then adamant that she was supposed to. Be in my room. Did I mention this was a college admission test? She needs to relearn her alphabet!
3. One word: Ellen. I puffy heart love this show. She makes me smile every time I watch.
4. My BIL is running the NY marathon tomorrow. Other than watching him finish, my sister wanted to go to the Today show because she loves Lester Holt. I just saw a picture of her and Lester on FB!
5. Most people look forward to Thanksgiving for dinner, family time, football, etc. While all of that is fun for me too, I am SUPER excited for black Friday. Yes, I have the app and have liked it on FB! I am one of the crazies who will be out there at midnight shopping!