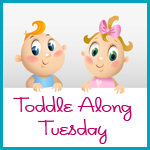 I had done my best to update Milestone Mondays but I have slacked as the school year has gone on. This is a good opportunity for me to add a few!
Payton is eating rice cereal, fruit and veggie purees, teething biscuits, and a little water out of a sippy in addition to her breastmilk. In the past week we also gave her puffs. It was tricky to find some that are soy and milk free but thanks to Whole Foods, I did. She LOVES them! Even to the point that if the container is out she won't pay attention to anything else! It is cute. She even can pick one up and tries to put it in her mouth (not very successfully).
She had been rolling and sitting with help but we are getting to sitting on her own. She still struggles with looking back without tipping back. She likes to sit and play or watch Gracie, our dog, play.
A not-so-fun milestone is that we are dealing with constipation. It started about a week ago when we noticed the pooping was less often and very solid. Then she went a day without going. The next day our sitter told me that she really strained to okay get out a small poop. Our pedi recommended some prune juice (mixed with water), avoiding orange veggies and applesauce. She is not a fan of prune juice but we are getting some in her. FX that things get moving soon!