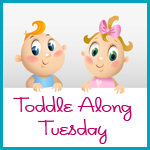 I am joining up with Melissa at Growing Up Geeky for another round of Toddle Along Tuesday. I love her first - super cute video!
I feel like every day is a first with P, but I think that my favorite so far is that she knows where to go for some of the things we do every day. For example, at night when it is time for her bath, J will say, "Are you ready for your bath?" The P will stop what she is doing and crawl over the the bottom of the stairs!
At the sitter she goes to her high chair when it is time for lunch. This amazes our sitter. I love that she knows what we are saying and can demonstrate that to us. We are working on some signs and words, but her actions let me know that she is learning! I love it!