Some new info from me as a part of...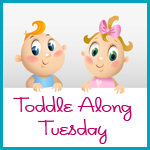 J and I have put playroom plans on a little hold for now. We not only realized that we don't want to be stuck upstairs but we have found some good ways of containing P's toys in our living room. So here is the rundown...
P starts with one of the little boxes:
Which she promptly empties:
(she is also discovering her tongue!)
Here is where we keep the short boxes of littler toys:
Below the TV we keep some of the medium sized electronic toys:
We have some of the bigger toys in the corner of the dining room when she isn't using them.
For now this is working so we are going with it. I still am keeping ideas for her upstairs playroom because it will happen but for now we are good. I think the kitchen will be my next organization bug's victim. I will update with that one!